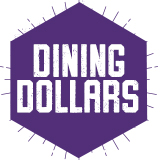 Reload Dining Dollars anytime!
Purchase Online!
Minimum purchase $10
Dining Dollars can be used at any of our on campus dining locations. Make sure you have what you need to buy what you want. Please inform Cashiers you are using Aramark Dollars at the registers when using these funds.
Please, be aware that this purchase is for Aramark Dining dollars and not Bear Bucks.